I. Overview
"…putting one's own house in order and on seeking to establish what is right
rather than who is right."
 Following this philosophy, Caux Round Table Japan has been collecting and communicating CSR related information globally, putting a premium on a respect for fairness and independence. In addition CRT Japan has created a platform, in which business can optimize the "IMPACT" and "SCALABILITY" of their CSR activities with efficiency and due consideration for society, and materialize a support system reflecting two viewpoints, namely CSR (corporate social responsibility) and PSR (personal social responsibility).
CSR(Corporate Social Responsibility)
Business should be able to address the following five points. Providing comprehensive support specifically for these points, CRT Japan assists in the implementation of effective CSR and the establishment of a competitive business advantage.
Understanding Global CSR trends

Networking with global CSR initiatives
Seminars and global conferences
Field visits

Identifying relevant CSR issues

Human Rights Due Diligence Workshop
Materiality analysis

Stakeholder engagement

Human Rights Due Diligence Workshop
Seminars and global conferences

Responding to potential adverse impacts (potential management risks)

Supply Chain Sustainability

Improving transparency

Reporting support (CSR Consulting)
GRI G4 Certified Training
PSR(Personal Social Responsibility)
Recognizing that not only approaching business but also individuals who practice CSR is intrinsically important for effective CSR implementation. Personal Social Responsibility (PSR), a liberal arts training program, is designed for the personal development of business people and students alike.
Ⅱ. Our Approach
In recent years, companies have been experiencing dramatic changes in the business environment. Whilst the social and environmental impacts, both positive and negative, caused by business have been growing, expectations for business to act as a responsible member of society by identifying and addressing its impact in the entire value chain has been rising. In addition, corporate value today is evaluated not only by financial position but also by the CSR/sustainability approaches taken by the business. For the effective and efficient deployment of CSR activities under a limited budget and human resources, CRT Japan developed "Sustainable Navigation", a comprehensive framework of CSR activity, and provides services corresponding to each step specified in the framework.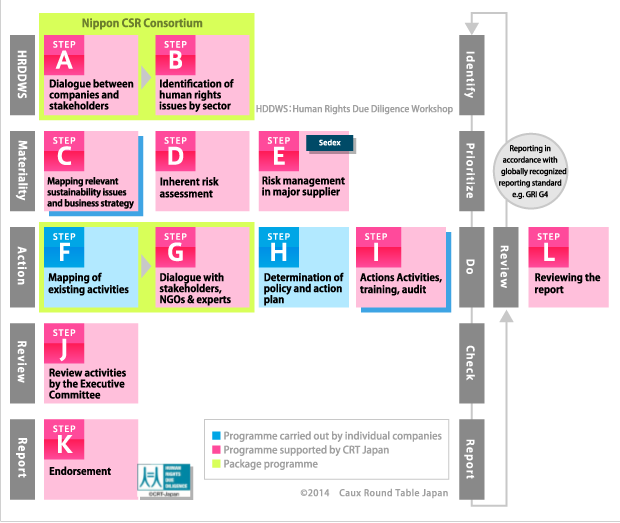 Ⅲ. CRT Japan Unique Strength
1. Network of leading CSR Initiative organizations at home and abroad
Providing the optimal service to business by utilizing the latest global CSR trends and information, and through leveraging a network of leading CSR initiative organizations
2. Consultation Leading to Action
Creating the best strategy based on the latest global CSR trends, discussing concrete plans for materializing that strategy, and enabling them to be implemented as specific actions.
3. Impact in Rule Making and Communication
Proactively involved in rule making discussions and communicating both the voice and the values of Japanese companies to the global CSR community
4. Fairness and Neutrality
Accurately conveying information and delivering education programs in clear Japanese from a fair and neutral viewpoint, and actively collaborating with various organizations aimed at achieving a common goal.
5.Related Materials
Human Rights Risk Reports:
Stakeholder Engagement Programme
Human Rights Due Diligence