The Caux Round Table (CRT) was initially founded in 1986 to address mounting trade tensions. Business persons of Europe, the United States of America and Japan had gathered in a small mountain village Caux in Switzerland had initially accused each other with acrimonious dispute, but later reached a consensus that 'respect for others and living together' was an attitude essential for survival, and based on that awareness, they jointly formulated a code of conduct that they obliged to followed.
In 1994, "CRT Principles for Business" was formally launched as the first code of conduct jointly developed by business persons of Europe, the United States of America and Japan.
Years later, the CRT developed a self-assessment tool "CSR Innovation" aiming at realizing corporate management practice based on the spirit of the Principles, and has been promoting its application to rase awareness of corporate executives and middle-managers, as well as to identify issues in executing CSR management in business.
Since 2011, "Sustainable Navigation" as a comprehensive framework for human rights due diligence to support implementation of the UN Guiding Principles on Business and Human Rights has been provided to companies. The framework is designed to simply 'visualize' progress of the companies in their journey of human rights due diligence. In addition, realizing a difficulty of the companies in disseminating the Guiding Principles on Business and Human Rights alone, CRT has been developing an engagement program serves as a platform of initiatives that involve the companies and their stakeholders.
What is necessary for a company today to achieve sustainable growth as a member of society, while responding to the demands and expectations of society? With this fundamental question in mind, CRT will make recommendations to the companies and society, as well as provide consistent support for implementation of their initiatives.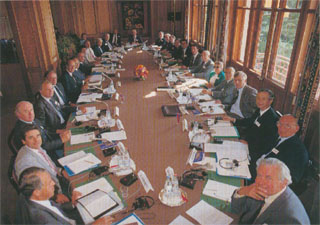 CRT group photo: the 1st Caux Round Table in 1986
phase01
"Awareness" originating from the trade tensions (1986-1991)
In May 1985, an article appeared in a Dutch newspaper with a headline "Deceptive Smile of Japan", based on a Philips internal research report. It stated '… protectionism, dumping, theft, and intimidation, are all incorporated in Japan's strategy aiming at destroying the electronics industry in Europe and the United States." harshly criticizing Japan in mounting trade friction with the United States and European countries at the time..
Frederick Phillips, former President of Philips Electronics, earnestly wished to share the article with Japanese business leaders as "a friend of Japan", believing that 'Japan should know how Japan is viewed from outside the country. Sometimes images are more important than facts, and it is true that much of the wars in the past had outbroken from images, not from facts.' The article was translated into English and sent to Japan, at the same time, jointly with Dr. Olivier Giscard d'Estaing (former Vice Chairperson of European Institute of Business Administration (INSEAD)) , he suggested to convene a conference in which the business leaders from Europe, the United States and Japan can have a candid dialogue.
The first global dialogue was held, initially taken over by a storm of Japan bashing by attendees of Europe and the United States, with acrimonious atmosphere. However, gradually "spirit of Caux" led interplay among the parties. This is the spirit of 'seeking for a common ground from the viewpoint of others', inherited and flowing there in Caux, Switzerland, that had catalyzed reconciliation between Germany and France after the Second World War and opened a door to Japan for reintegration to the international society. As the dialogues proceeded, the atmosphere was changing and concerted efforts emerging. Finally, a joint proposal was issued stating what tri-parties should do, under an expression of '… instead of providing the others with an order (what to do), we should first put our own house (own country) in order'.
Thus, CRT began its journey as a forum for dialogue among the tri-parties for resolving trade tensions.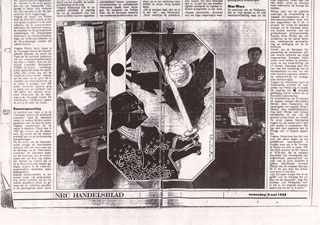 The article in the Dutch newspaper in May 1985
phase02
"Understanding" through formulation and promotion of the Caux Principles for Business (1992-2000)
Resolution of the trade friction among, Europe, the United States and Japan had been the calling of the time when CRT was born, but the world was advancing to the period of transition, driven by disruption of structural conflicts between socialism and capitalism triggered by collapse of the Soviet Union in 1991 and swift expansion of so-called globalization. CRT that used to function as a forum for dialogue between the tri-parties, now started to organized conferences in India, China, and Taiwan for facilitating exchanging views, along with the economic development of Asian region. Then the role of CRT has been shifting from a coordinator of mere "dialogue" to a that of discussion on how to make balance between "competition and cooperation" among regions.
In response to the changing times, CRT developed "CRT Principles for Business" and published globally in 1994. The CRT Principles for Business incorporates three core concepts, each of which was proposed from Europe, the United States, and Japan, and serving as pillars of the principles.
CRT:CRT Principles for Business: 3 Concepts
・Kyosei  ・Human Dignity  ・Stakeholders Principle

The CRT Principle for Business consists of seven principles and seven stakeholders and specifies responsibilities that companies must fulfill to each stakeholder in the light of the seven principles. The Principles is regarded as the first code of conduct produced by business persons from Europe, the United States, and Japan, who had different backgrounds in terms of cultures, customs, and religion, and thereby it has significant influences on similar codes of conducts created thereafter. In Japan, also many ideas of the Principles were incorporated into Keidanren's Charter of Corporate Behavior (revised in 1986) under revision in the meantime.
phase03
"Penetration" by utilizing practical tools (2001-2010)

The times surrounding CRT was changing steadily. With bursting of the bubble economy in Japan and subsequent prolonged economic recession, the trade friction was no longer a key issue among Europe, the United States, and Japan. In one hand, the Japanese society became increasingly aware of corporate behavior, in the wake of a series of corporate scandals, and on the other hand they started to pay closer attention to corporate efforts for protecting global environment, whilst the Environment Agency of Japan (now the Ministry of the Environment) published Environmental Reporting Guideline in 1997.
Amid the flux, CRT began exploring ways to utilize the CRT Principles for Business published in 1994 in a more practical manner in business operation.
In 2002, the U.S. team of CRT completed a specific tool "Corporate Social Responsibility Risk Assessment and Valuation Enhancement". In addition, its Japanese version "CSR Innovation" was completed in 2003 by the Japan team with some adjustments taking legal and cultural local differences into account.
Since then, "CSR Innovation" has been implemented in many Japanese companies, including Nissan Motors. Besides an English version, Spanish, German and Russian versions were created and used worldwide.
Column-What is "Caux"?
Caux is a small village on the hillside of a mountain, about an hour's mountain tram ride from Montreux, a town famous for jazz festival on the shores of Lake Geneva in western Switzerland.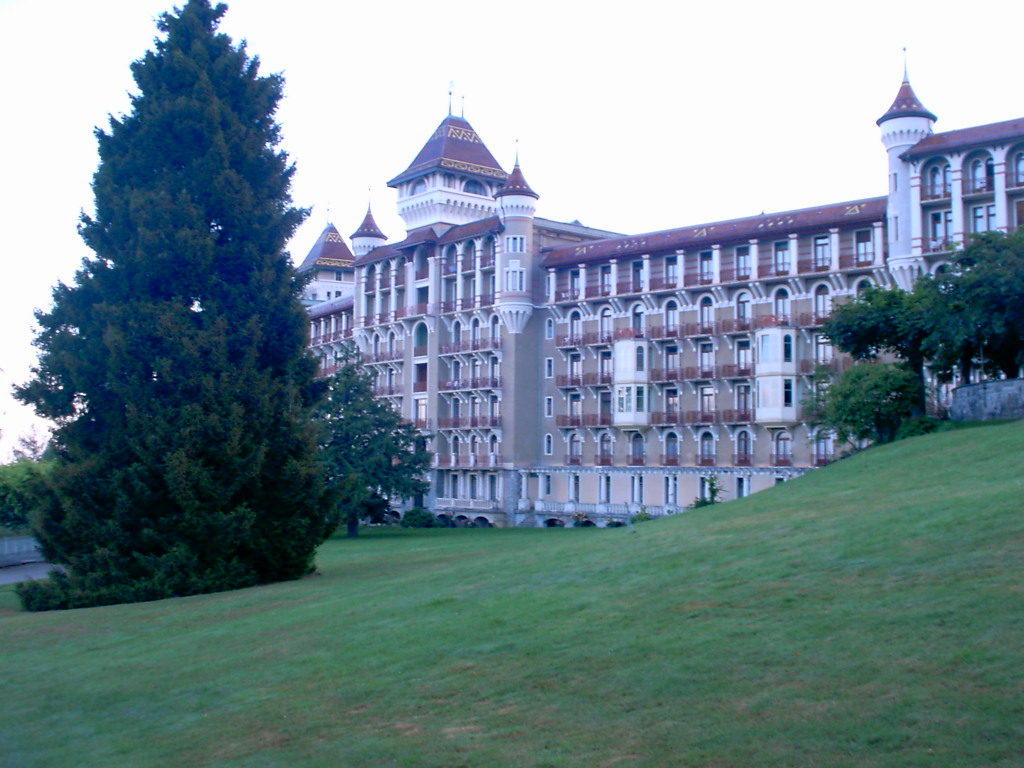 Caux Mountain House
Caux Mountain House built there is the place historically catalyzed various dispute resolutions as an international conference center for Initiatives of Change (IofC) that is an NGO engaged in activities to bring about reconciliation and restoration in about 80 countries across all ethnicities, religions, nationalities. Most notably, the place fostered a reconciliation between Germany and France in conflict after the Second World War.
IofC organizes an international conference every summer in Caux, where Mr. Phillips believed its quiet and peaceful atmosphere appropriate for the conference that would be a forefront of the trade friction negotiations. Upon his request, IofC. accepted to have the first conference here at Caux.
Later, the conference was named Caux Round Table and institutionalized that initiated a relationship between IofC and CRT to this day.
phase04
Transmitting "impact" from Japan by leveraging platform (2011-2019)
Based on the Guiding Principles on Business and Human Rights formulated at the United Nations General Assembly in 2011, CRT Japan developed "frameworks (for human rights policy and human rights due diligence, etc.)" and at the same time developed a "platform" that allows multi-stakeholders to participate in, together with a companies In addition, Stakeholder Dialogues were unfurled in cooperation with Asian countries (Thailand, Malaysia, and Indonesia). in order to strengthen supply chain management system of Japanese companies.
As a backdrop of these activities, there were facts that even after 2011 many Japanese companies failed to foster willingness to commit itself to the Guiding Principles on Business and Human Rights; gradually fell behind Asian companies; and started to lose trust from the global community. To breakthrough such Galapagos, CRT Japan signed a series of partnerships with global initiative organizations for building a system that enables the companies to disseminate their activities and initiatives from Japan to the world.
Especially to our annual events such as "Stakeholder Engagement Program (since 2012)" and "the International Conference on Business and Human Rights in Tokyo (since 2013)", the world's leading experts in this field participated and kindly shared their sincere views that enabled us to play a bridging role between the world and Japan. Furthermore, for building a supply chain management "platform", we signed partnerships with SEDEX and Bluenumber, who are leveraging advanced IT technologies, in order to prepare infrastructure for a scheme that facilitates Japanese companies to address human rights issues more effectively and efficiently.
Going forward, CRT Japan will strengthen initiatives related to ESG investment, so that the Guiding Principles on Business and Human Rights will have a greater impact on the decision-making process of corporate management.
phase05
Inclusive era for enhanced scalability (2020-)
In response to the accelerating trend towards tighter regulation of the Guiding Principles on Business and Human Rights (UNGPs), mainly by European governments, who are concerned about the lack of progress in companies' efforts to address the issue, CRT Japan has developed and implemented "NINJA", which enables companies to establish a mechanism for direct dialogue with rights-holders by making use of technology, and "Global Supply Chain Data Management System", which promotes the establishment of management system at a high-dimensional level by visualizing the supply chain, in order to create an environment in which companies can easily take action.
In 2022, following the EU and the Japanese Government's clear moves to strengthen regulations, Japanese companies have finally begun to take initiatives on the UNGPs in earnest, and many companies have contacted CRT Japan for support and navigate. In response to offers from such companies, CRT Japan has entered into partnerships with a number of reputable consulting firms and strengthened its system to provide support tailored to individual company needs.
In companies, the UNGPs are beginning to shift from being addressed by sustainability departments to involving ESG-related departments, and are being integrated into management council bodies, and are shifting to activities through the core business in a way that takes into account the value chain.
In order to disseminate the UNGPs to companies, CRT Japan has been using a method of gradually expanding the scope of its activities by building on small success stories to identify human rights issues through direct dialogue with rights-holders, to check whether there is a need to reduce the environmental impact of local residents living in that area, and to carry out human rights and environmental due diligence. Furthermore, through direct communication with these rights-holders, we establish a foundation of trust on the ground, while developing it into a Grievance Mechanism.
History of activities in Japan
Since 1986 the International IofC Japan Association accommodated the secretariat of CRT organization in Japan. In April 2000, the organization was re-established as an independent entity Caux Round Table Japan (CRT Japan) aiming at developing more proactive operation. In 2006, CRT Japan became a registered non-profit organization.
The main activities of CRT Japan include: research activities, education and training, corporate diagnosis, lectures and publications, and advice and proposals aiming at dissemination of corporate social responsibility (CSR) and corporate ethics based on the CRT Principles for Business; participation in the Global Dialogue, an annual international conference; public relations and communication on CRT's international activities in Japan; cooperation with other organizations such as Keidanren on corporate ethics and CSR; and promotion of understanding socially responsible investment (SRI).
Particularly last few years, our activities have been focusing on communicating global trend of the CSR activities to Japanese companies and activities for empowering out reach of the Japanese companies.
Also in recent years, recognizing that not only businesses but also individuals is intrinsically socially responsible, substantial energy and efforts have been invested to develop liberal arts education programs. The programs are designed for personal development, targeting business people and students will be human resources leading Japan and the world of tomorrow.
Click here for our main activities.